The glass floor is a rather original design decision because it surprises with its luxury and originality. Like any material, glass has its own characteristics, which determine its strengths and weaknesses as a floor covering. In this article, we will look at the main pros and cons of the glass floor.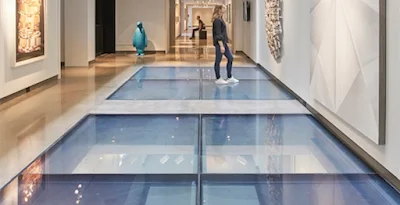 A Blue Glass Floor
Disadvantages. The main disadvantage of the glass floor is the high price compared to other materials. In addition, it is not recommended to mount such a floor on your own due to the fragility and high weight of the material. If you are thinking about the choice of the mirrored floor, consider that the reflective effect may cause discomfort for some people. On the mirrored coating, dirt and traces of water will be clearly visible, so this floor requires regular cleaning.
A Transparent Green Glass Floor
Advantages. A glass floor covering can visually expand the space and fill the room with light. In addition, it will give the room an expensive and luxurious look. You can choose any color and texture of glass. For example, it can be matte and color, gradient glossy or even from an
antique mirror
. Glass is not afraid of moisture at all, the possibility of a fungus is minimized. Due to the water-repellent properties of such a floor, dirt is easily washed off. It is difficult enough to scratch glass, and since laminated glass is used to make floors, you will not be able to break the installed floor accidentally.
It is true that glass floors have a higher cost than others. It is also true that the projection it provides is superior. So we suggest that you do not discard it at the first time. In the end it will prove to be an excellent investment.
It is perfect for any place, especially shopping malls, corporate buildings, nightclubs and of course homes. You will notice a distinguished yet modern style in decoration.
If you would like to see more glass flooring projects to make a decision, Giovani Glass can help you. We are one of the preferred glass companies in New York when remodeling or renovating residential or commercial spaces.
We have a long history of creating quality projects for New Yorkers by satisfying their glass and mirror renovation needs. We work on small, medium or complex projects, there is no limit. We also deliver totally customized results, adjusted to your budget.
So price will not be a problem. On the other hand, we use the latest technology work tools that allow us to deliver works in fast times. We only have highly qualified personnel for our projects, so don't expect extra costs from us.
Much less unfinished jobs or jobs different from what you request. But for more information contact us and if you wish you can receive a free estimate.